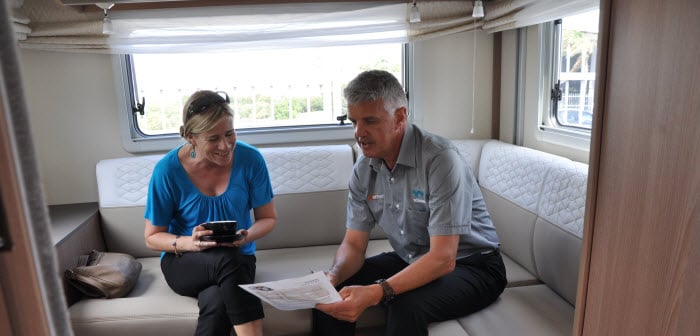 Motorhome ownership is a fun way of life, but there may come a time when you want to sell your motorhome in order to upgrade, downsize or to retire from the road completely.

You might choose to sell privately or go through a dealer. With Wilderness, you could have the opportunity to trade in your Carado, Bürstner or HYMER vehicle, or we could sell on your behalf, as we have expert knowledge of these motorhomes and their history, and we hold parts.

Whether you choose to work with us on selling your motorhome or list it yourself, there are some key areas to consider when it comes to making a great sale.


Preparing for sale

Before you do anything else, make sure that your motorhome is ready for prospective buyers to inspect. This is especially important if it's been parked up or in storage for any length of time.
Check all appliances and on-road functions are working well
Consider a full service. This will highlight any mechanical or technical aspects you might need to address before selling, or that buyers can be made aware of. This can also help inform your asking price (see below).
Check whether the gas, electrical and self-containment certificates are up-to-date. If not, consider getting them renewed, as it will make your motorhome more appealing to buyers.
Clean it inside and out (see below)
There's a handy guide here to cleaning and basic safety and technical checks you can make.


Presentation

Just as with selling a house, you need to present your motorhome to buyers in its best condition. Clean and tidy motorhomes are more appealing and first impressions can make or break a sale.
Empty the vehicle of any unnecessary clutter, such as personal items or decorations.
Remove anything that isn't included in the sale price.
Check your motorhome's exterior and interior and fix anything that's broken or damaged where possible.
Clean the motorhome inside and out. Prospective buyers will open cupboards and drawers and look in the fridge and oven, so make sure everything is clean, free of odours or stains and well presented.
Charge up appliances. Leave the fridge running for viewings to show it's in working order.
Air the motorhome out well, especially if it has been closed up for any period of time.
Wash the exterior and re-wash between viewings if necessary.
If you're selling in winter, make sure the motorhome is warm inside for viewings, and likewise cool in summer.


A question of price

Working out a fair price for your motorhome will take some research. Bürstner, Carado and HYMER motorhomes are known for holding their value, but you'll need to factor in mileage, mechanical fitness and any significant wear and tear over the time you have owned it.
Look online to see how similar models of a similar age are priced, or chat to your dealer for guidance.

Accessories do add value to a motorhome (you may have installed an awning or solar panels for example), but they don't always translate to an increase in the final sale price. Extras can make your motorhome more appealing to a prospective buyer though, so always give full details of any additional features in your listing.


Talking to buyers

As a motorhome owner, you already know how much enjoyment you can get from life on the road. When it comes to selling your motorhome, share its advantages with the prospective buyer – how did it make your travels even better?
Does it handle gravel roads really well?
Can it tow a trailer, or a boat?
Is the garage the perfect size for golf clubs and bikes?
Does it have a good amount of storage?


Help the buyer to understand what sets your motorhome apart from others they might be considering, and to picture themselves enjoying your motorhome.


Practicalities
Have any paperwork, service records and instruction manuals ready to view when requested
Encourage viewings – make yourself as available as possible for prospective buyers
Answer any questions promptly (especially if listing on an open platform such as TradeMe)


If you're considering trading in or selling your Wilderness motorhome and would like some advice, contact our After Sales team.