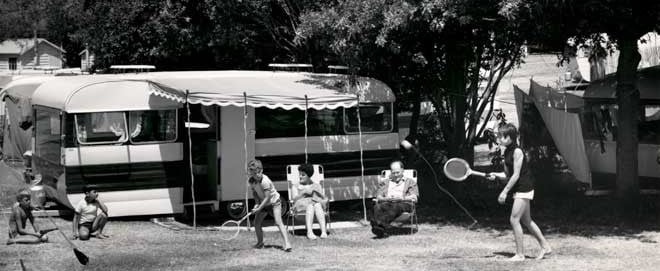 As a nation, New Zealanders are blessed with an abundance of natural beauty on our doorstep just waiting to be explored. Kiwi families have taken camping holidays in New Zealand's idyllic landscapes for decades — many having grown up spending the summer tenting or caravanning at popular locations.
The growth of the New Zealand holiday park
Our love of camping spurred the growth of the holiday parks in the early 1900s. Camping holidays first became popular in the 1920s when lightweight tents and portable furniture including tables, chairs and beds first became available. Motor camps, as they were called, were set up by local councils all over the country with about half located near beaches. Farmers offered camping on their land and people were welcome to pitch their tents on public land.

From the 1930s, the government encouraged councils to provide land for camping and recreation. The granting of two weeks annual leave meant that almost everyone could afford an annual holiday and many chose camping.

These days, you'll find a holiday park in most corners of the country. Many of these have developed over the years from open fields with basic kitchen and toilet facilities into modern resorts catering for much more than the annual summer family camping holiday.

Over the past fifty years or so, our nationwide network of holiday parks and more basic wilderness campsites have been the inspiration for Kiwis yearning to tour their own country.
The Kiwi love affair with caravans
The end of post-war petrol rationing in 1950 paved the way for car ownership. Kiwis who owned a car could travel further and start exploring the country. Caravans soon became a more weatherproof and luxurious alternative to the tent, providing an opportunity for skilled cabinet makers to venture into building caravans.

The growing popularity of caravans led to the establishment of commercial production in New Zealand in the 1950s. During the peak of the caravan industry in the 70s, small factories were dotted all around the country. Entrepreneurs like Bruce Webster (Lilliput Caravans in Auckland) and Bryan Jackson (Jackson Caravans also in Auckland) saw a market opportunity and put their design and construction skills into use. Bryan Jackson, who apparently sold the most caravans in New Zealand between the late 1950s and 1989 when his business closed, started building caravans after import restrictions put an end to his caravan importing business. A disassembled English caravan was supposedly the design inspiration for his first NZ built caravans.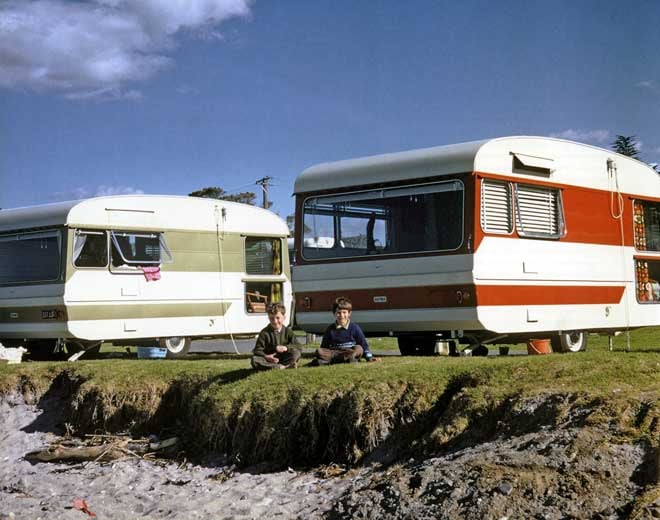 1970s Oxford Caravans (CI Munro)
Other local manufacturers were small scale family businesses like Liteweight Caravans in Hamilton, owned by the Jessens, who made the Cavalier, Chevron and Vagabond caravans, the sturdy Classic Caravans built by the Hurst Brothers in Levin, Zephyr made in Dunedin by Modern Caravans, and Anglo made in Hamilton by Harold Place. One of the biggest caravan factories was CI Munro based in Otorohanga which produced Oxford, Crusader and Sprite caravans.

The introduction of tariffs on luxury goods including caravans decimated the caravan manufacturing industry in 1979. Caravans became too expensive for many Kiwi families and caravan manufacturing consequently took a big dive. While the crippling luxury tax was replaced by the much smaller GST in the 1990s, the caravan industry didn't fully recover.

Very few caravans are now manufactured in New Zealand. In fact, the Leisure Line and Southern Star brands owned by the Bates family in Hamilton, are the last of what was a burgeoning industry.

New Zealand caravans have very good reputations and are known for being robust and hardwearing, and for holding their value. The fact that many caravans built in New Zealand between 1950 and 1980 can still be seen on our roads is a testament to their sturdy design and solid build. After decades of faithful service, most older caravans have retired to backyards. However, many have been repurposed as permanent holiday homes in campgrounds around the country. A few permanent features have been added such as a wooden deck, power connection and even a reticulated sewerage connection providing more convenience and comfort. Families which used to tow their caravan to their favourite campsite still return every year and new generations follow. But now there's no need to tow the caravan home at the end of the holiday.
The rise of the motorhome
Some caravan manufacturers transitioned to building motorhomes as caravans became uneconomic and touring by motorhome became popular. The largest manufacturer to successfully make the transition was CI Munro.





Caravan manufacturer CI Munro started building motorhomes in the 1970s. The company was sold to New Zealand's biggest tourism operator Tourism Holdings Ltd (THL) in 1995 and relocated to Hamilton. The new factory, built to manufacture campervans and motorhomes for the rental market, was NZ's largest. CI Munro, later rebranded Action Motorhomes, claims to be the largest campervan, motorhome and specialist manufacturer in the Southern Hemisphere. Action builds campervans and motorhomes for the maui, Britz and Mighway rental brands.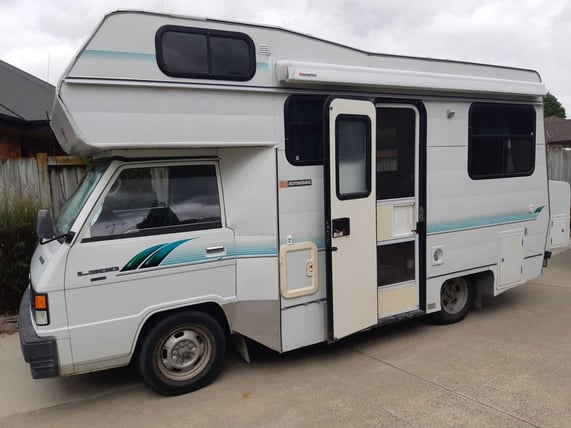 1997 Mitsubishi L300 motorhome (CI Munro)

Other than Action, few local motorhome manufacturers remain. The Wakerley brothers, who built their reputation on manufacturing top end custom built motorhomes and horse trucks, closed around 2012. John Managh, founder of Wilderness, dipped his toe in manufacturing in 2007 designing and building the iconic Roadcraft campervan, first for the Wilderness rental fleet and later for Kiwi motorhome buyers. The handbuilt Base Jumper campervan was a hit with the locals who appreciated the design aesthetic and layout. RoadCraft was sold to TrailLite in 2010 and Wilderness went on to pioneer importing high end motorhomes from Germany.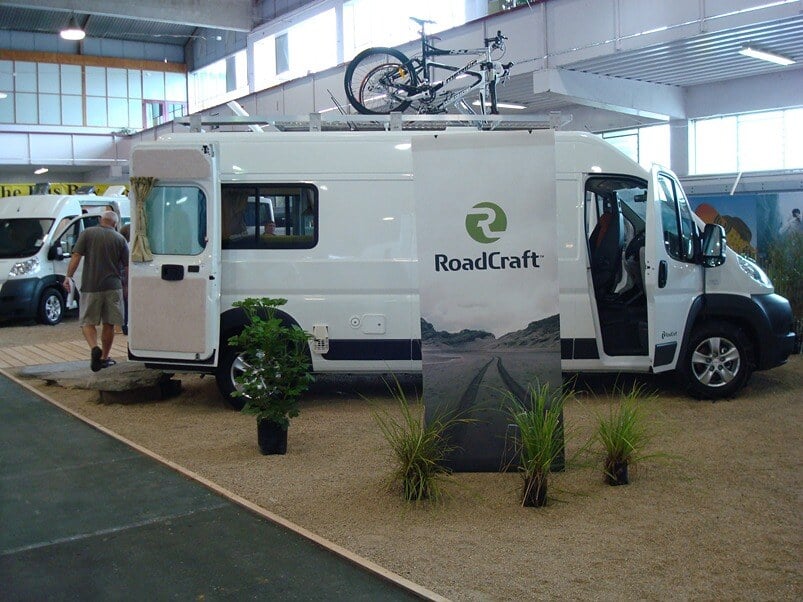 2007 RoadCraft Base Jumper campervan (Wilderness Motorhomes)

TrailLite is perhaps the only success story of a New Zealand caravan manufacturer who pivoted to building motorhomes and continued to grow while remaining in family ownership. Owned by the Newman family and based in Pukekohe, TrailLite is now a second generation family business. Pete Newman, another industry legend, started out as a cabinetmaker with caravan manufacturer Penman and Crotty. Penman and Crotty changed to building motorhomes after the bottom fell out of the caravan industry in 1979. Pete later bought the business, rebranded, and went on to establish a reputation as New Zealand's oldest motorhome manufacturer. TrailLite's success has been founded on understanding the local market and continually innovating to meet their changing needs.

Other than Action and TrailLite, the only other local manufacturers producing motorhomes at scale are ALM Group in Hamilton, ACM Motorhomes in Auckland and Coastal Motorhomes in Whakatane. They all build highly customisable motorhomes from a small range of standard floor plans. It's this customisation that's helped them to craft a niche in the local market and compete with the volume of imports.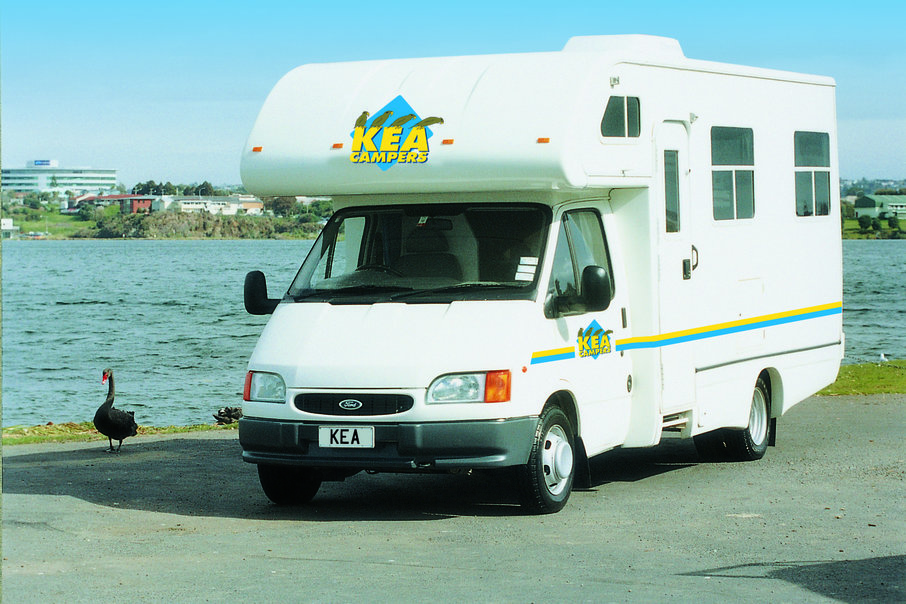 1990s KEA Campers rental motorhome (KEA)
The typical New Zealand motorhome
The first motorhomes manufactured in New Zealand were built on the sturdy but sluggish CF Bedford. When Japanese trucks became available, Daihatsus, Mazdas and Toyotas were preferred. Since they were underpowered for heavy motorhomes, they gained a reputation for holding up traffic - a reputation that's been hard to shake even though modern European motorhomes can easily keep up.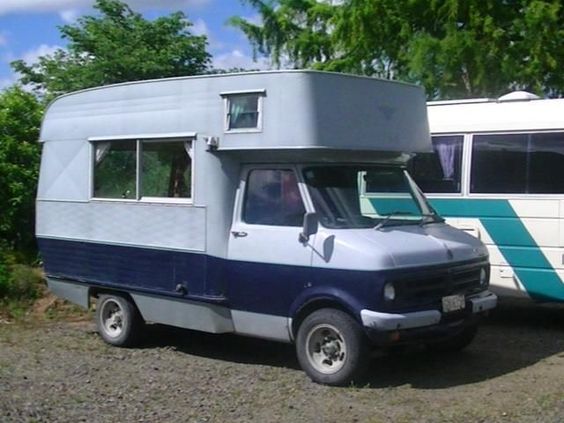 1970s Custom built motorhome on a CF Bedford

New Zealand built motorhomes from the 1970s and 80s have an uncanny resemblance to a caravan on a truck. They kept the same popular caravan layout. The wraparound lounge (known as a club lounge) in the rear, which converts to a bedroom at night by carefully rearranging the seat cushions, is still the most common floor plan in motorhomes manufactured locally. The main difference between these motorhomes and the caravans that preceded them was the addition of an overcab (luton) for an additional berth. They were built for freedom camping so had an onboard toilet and kitchen and generous water storage.
Motorhome imports gain market share
Over the past thirty years, it is motorhomes that have become the mainstay of New Zealand's recreational vehicle market. Before the Covid-19 pandemic took hold in New Zealand in 2020, new motorhome registrations outnumbered new caravan registrations by ten to one. From about 2010, New Zealand motorhome manufacturers had to adjust to a new threat - imports. While a limited range of motorhomes were imported from Australia and the UK in the late 1990s and early 2000s, it wasn't until around 2010 that the growing popularity of touring by motorhome prompted Kiwis to look to European alternatives.

The availability of high quality and affordable mass produced motorhomes, mostly from Europe, heralded the beginning of a new chapter. Europe is the world's biggest market for motorhomes building tens of thousands of new units every year. The German motorhome industry's reputation for quality, reliability, efficiency and innovation is globally unparalleled – just as it is for its world leading car brands. The country's leading R&D infrastructure, end-to-end value-chain integration and highly skilled workforce together create an undefeatable international automotive domain. That's why German motorhomes quickly became highly sought after in New Zealand.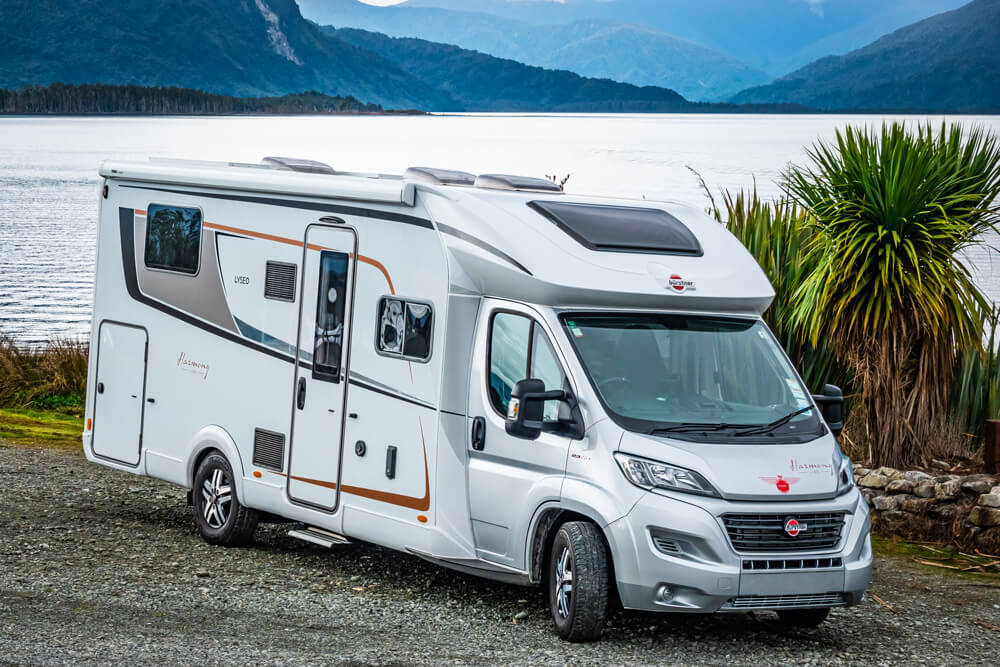 2021 Bürstner Lyseo TD736 motorhome (imported by Wilderness)

Wilderness (rebranded from SmartRV in 2021) was the first to import European motorhomes into New Zealand at scale. Most of the German motorhomes they imported in the early 2010s were for their rental fleet but the demand for motorhomes for the local market grew quickly. Wilderness secured the exclusive distribution of Europe's biggest selling motorhome brands Bürstner and Carado then later HYMER.

The first European motorhomes imported into New Zealand were greeted with much scepticism by many Kiwi motorhomers. They were concerned that having the habitation door on the offside was an accident waiting to happen. Motorhomers were doubtful whether the European layout, with the lounge upfront and a permanent bed in the rear, would catch on here.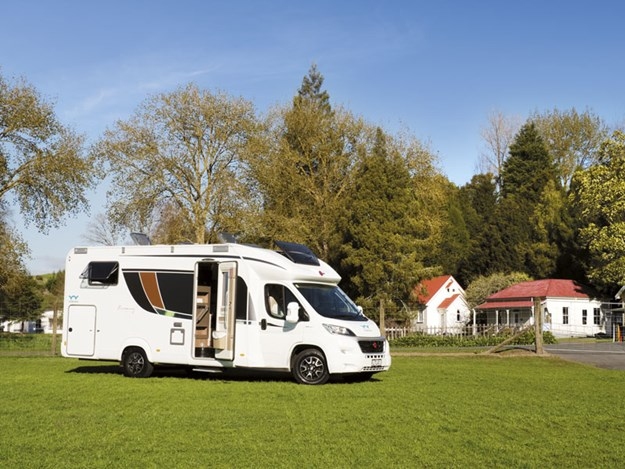 More than ten years later, European motorhomes are now mainstream in New Zealand. The demand for a permanent bed in the rear has led to the inclusion of this layout in the standard range for many domestic manufacturers and the safety concerns about the offside door seem to have lessened. Now most of the New Zealand manufacturers sell motorhomes they import as well as those they build - effectively having a foot in both camps.

Imported motorhome options available in New Zealand range from entry level campervans to full sized motorhomes built on a truck chassis. Typically, you'll see the semi-integrated type of motorhome on Kiwi roads with a majority of these being German imports.
Changing times
Since the pandemic closed the country's borders in early 2020, caravans have regained popularity. Kiwis who can't travel overseas have chosen to tour their own country and doing it in a caravan is a very cost-effective solution.

These days, there are many more caravan options to choose from than back in the 70s - although the majority of these are manufactured offshore with most coming from Australia. Caravan options range from tent trailers and pop top caravans at the lower end of the spectrum to fifth-wheelers on the upper end.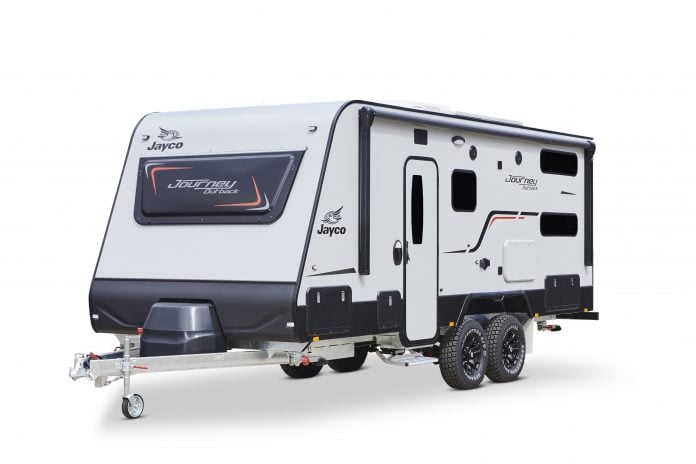 2021 Journey Outback caravan (Jayco)

The spike in demand has caused a shortage of both caravans and motorhomes in 2021. Shortages of components affecting the whole automotive industry have impacted caravans and motorhomes leading to big price increases.

Wherever the next few years take us, we are that Kiwis will continue to love their camping holidays no matter whether they travel by caravan or motorhome. We look forward to seeing plenty of people spending summer at a holiday park this year as Covid-19 restrictions ease.

Long live the Kiwi camping holiday.
In this guide, we've tried to unpack the motorhome options available to New Zealand buyers and walk you through the pros and cons of each.