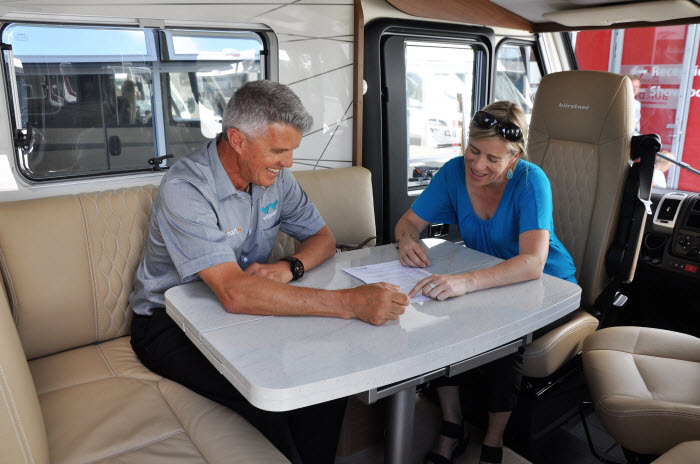 Apart from the purchase of a house, for many people the purchase a motorhome is likely to be their most expensive outlay. For this reason alone, it's good to have an understanding of the purchase process, one that usually goes from "just looking" to actually signing on the dotted line.
Although buying a car is a similar procedure, there are some differences to consider.
New Motorhome Purchase
Undoubtedly buying a new motorhome, rather than a second hand one through either a dealer is the easiest. It is of course, also likely to be to be the most expensive. Let's assume here, that you have done some preliminary research into dealers and available motorhomes and you are now interested in a motorhome at a particular dealership.


Related read: Buyers' Guide: What Motorhome Should I Buy?


Word of mouth, motorhome shows and online sites are valued sources of research, as are recreational vehicle magazines. Once you've narrowed your shortlist down, here's some things to consider before you make the big decision:


1. Check on the finances

If you are a cash buyer, make sure your funds are available to pay the deposit as the dealer will require a deposit to confirm the sale. If a loan is required, then do some research into what the banks or other loan sources have on offer. Some dealers may well have an easy to understand finance plan but long term it may cost more than something organised personally.

Along the same lines, it's also handy to have a few insurance quotes lined up. Apart from anything else, that will give something to discuss, should the dealer have any insurance on offer.


2. Get the feel of the motorhome.

After arriving at the dealership, spend time looking over the prospective motorhome. Sit inside the motorhome and go through motions of motorhome living. That might sound a bit silly but the old hands will know that it's not wasted time, particularly in smaller motorhomes. Since many a leisure hour is going to be spent in your pride and joy, it's important to get the comfort and convenience factors right. Check all the furniture and fittings as well as the equipment. Even brand new motorhomes may have poorly fitted hinges or other quality issues. Ask all the questions of the salesperson that you can think of.


3. Have a drive.

New motorhomes these days tend to have European cab chassis underpinnings. Think Fiat Ducato, Mercedes Benz Sprinter, Volkswagen Crafter, Iveco Daily which are all car-like light commercial vehicles. Even so, a test drive in as many varied conditions as possible is highly recommended, especially if you're not familiar with motorhomes.


4. Consider add-on options.

At this point, it's good to consider any options that might be available. Motorhomes tend to be well appointed these days but there are still items like solar panels, satellite dishes and bike racks that could be added on.


5. Document import compliance.

In New Zealand, there are a number of compliance checks that are required on imported motorhomes, even new ones.
Any motorhome for sale should have the following:
Gas and electrical certification. Read more about safety requirements for motorhome here.

Pre Delivery Inspection (PDI) from the cab chassis manufacturer. For instance in the case of Fiat, a motorhome importer should send the motorhome straight from the wharf to the local Fiat importer who does the inspection. If this isn't completed, the Fiat warranty is void.

Warranty registered with base vehicle manufacturer e.g. Fiat and motorhome manufacturer e.g. Carado.
All those items should be documented and you should request proof. Neither the self containments certification nor the gas and electrical certification will affect the warranty but will affect your ability to use the motorhome. The lack of a pre delivery inspection and manufacturer's warranty registration will have consequences for the owner's warranty.


6. Understand the warranty.

Warranty is sometimes an area of contention. Make sure the warranty conditions are fully understood. It's possible there will be different time frames on the cab chassis, the motorhome structure, water tightness, and house batteries. Again, ask any questions, particularly if there are any conditions attached to the warranty, like servicing.


Finally, it's time to negotiate on price. Something to be done in your own inimitable style.




Used Motorhome from a Dealer
Not everyone can afford a brand spanking new motorhome. However, there are plenty of used motorhomes around in New Zealand and certainly something for every budget.

The process for buying a used motorhome from a dealership is much the same as a used motorhome, with a few additions.

Having satisfied yourself that a potential purchase ticks all the boxes, it's time for a few checks to be done. A benefit of a used motorhome over a motorhome that's new to the market is that the experience can often be found on various forums or social media sites. That gives an idea of problematic items to be looked out for.


1. Check the condition of motorhome.

On the motor part of the motorhome, tyres, windscreen, oil/coolant levels and lights, should be checked for either condition or functionality. On the body, items that should be looked out for are correct fitting door, windows, seals, corrosion, accident damage, water leaks and dodgy repairs. Where possible an appliance check is a must, as is ensuring the vehicle has the necessary electrical and gas certification. Also check for any special features the previous owner might have done - this especially applies to custom built motorhomes.


2. Take a test drive.

Just like a new vehicle, taking a test drive is essential. However, as well as ensuring it's a vehicle you like to drive, it's an opportunity to determine how good the mechanicals like engine, gearbox, brakes and cooling system are. At the same time make sure that items like windscreen wipers, heaters and cab air conditioners are working. In addition to that (an extended test drive is recommended) also tune in a listening ear to the squeaks, rattles and other noises that are often present in motorhomes. Some items like hob/grill rattles and road noises coming through the habitation door are easily fixable but others maybe harder to trace and fix or, alternatively, just lived with.


3. Check through any documentation.

It's always a good idea to check through any documentation that's available, in particular the motorhome's service and repair history. In particular, the vehicles service record. A dealer supplied vehicle should certainly have an up to date WOF/COF. As with any new vehicle, you should clarify the warranty details to make sure you understand what you're getting.


4. Organise a vehicle inspection.

Having decided that everything checks out so far, it's time to organise a vehicle inspection, preferably from an independent organisation. After that, assuming the inspection report is satisfactory, it's negotiation time.


5. Study the contract.

Sales and purchase agreements are standard items used in the automotive world. However, before signing anything, check that the following is correct: agreed price, buyer and seller details, vehicle details (ie odometer reading, Vehicle Identification Number (VIN), chassis number and WOF/COF expiry), any accessories to be included, financial details and trade-in information if applicable.
Ownership transfer is the responsibility of the you the buyer and can be done online on the NZTA website. or at a Post Shop.


Private Sale Used Motorhome
Buying a used motorhome via a private sale is much the same as buying from a dealership. However, there are a few extra things to consider. Make an appointment to view the motorhome and ask the owner to have appliances like fridge and central heating (if fitted) turned on and operating. Both take a while to get to their respective operating temperatures but anything else like the gas hobs, water pump, air conditioner can be checked when turned on.


1. Ask about any appliances.

Always ask the owner why they are selling. Sometimes the answer may reveal something you need to know. As with a dealership purchase, check the vehicle service record but ask about any DIY servicing or projects that have been done.


2. Check the provenance.

Something important with private vehicles is to check the motorhome's provenance - that it belongs to the seller and is not stolen and that there is no money owed on the motorhome. For a fee, websites like CarJam will reveal all. On any motorhome that requires an RUC licence, there should be no outstanding charges.


3. Consider a contract.

Although private motorhome sales do not require a contract, there's no reason not to have one, particularly from the seller's point of view. It could include the following: date of purchase, buyer and seller details, motorhome make and model, VIN and chassis numbers, WOF and license expiration date, sale price, payment method and any details of the vehicle condition that the either party requires to be noted. This should be signed by both parties.