So you love motorhoming - perhaps you're an avid motorhomer renting multiple times a year or maybe you're just an occasional renter wondering if purchasing might make more sense.

We often get asked about renting versus buying. During a time of budget conscious travel, it's well worth thinking about what's best. Unlike most companies in the motorhome market, we import and sell motorhomes as well as rent them (through our sister company Wilderness Motorhome Rentals) so we're very familiar with what's involved in both owning and renting.

That's why we've created this comprehensive renting / buying comparison. To keep things simple, we will be comparing renting with buying new for the same model of motorhome. Buying a used motorhome is also worth considering, but will not be discussed in this article.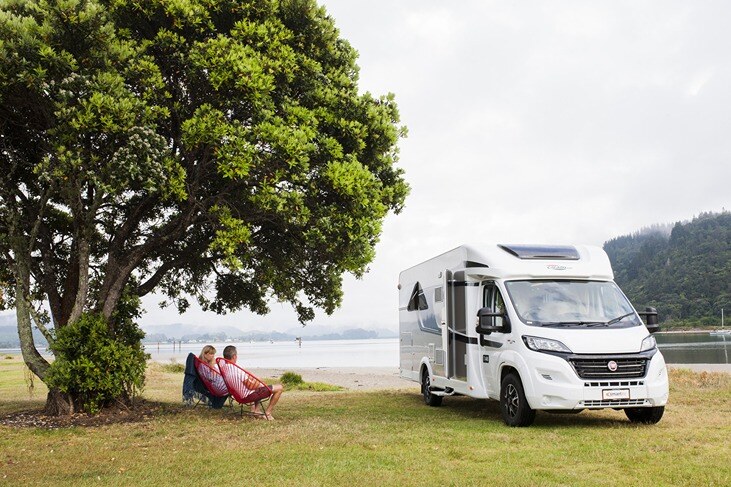 The motorhome we have chosen to compare is the 2020 Carado T447. This is German designed and built motorhome aimed at people seeking quality motorhomes at a lower price point. The Carado T447 is a comfortable and practical option for four people, aimed at families and those travelling with friends. It's a great option for a first time buyer.

In this comparison, we will first outline the financial factors to consider when renting or buying a motorhome then consider the equally important non-financial factors to consider when choosing to rent or buy.
Financial factors to consider when renting or buying a motorhome

We'll cover the financial factors first as you've likely already started looking into these. For each factor, we have provided useful information and approximate costs involved.
Buying a Motorhome

First, we will consider the initial price of your new motorhome and then the various costs of ownership.
Purchase price / initial investment of your new motorhome

At the time of publishing, the purchase price for the 2020 Carado T447 from Wilderness Motorhome Sales is $139,900 including on road costs. There are a huge range of optional extras you can add on. The most popular options include a larger TV screen, satellite dish, an extra solar panel.

All up, if you were to add these three extras on, you could expect to pay around $5000 extra on top of the base price.


Costs of ownership

The costs of motorhome ownership include compliance (registration, CoF or WoF, and RUC), insurance, servicing and maintenance, and depreciation. You may also want to consider opportunity cost and motorhome storage costs if you need to pay someone to store your motorhome.



Vehicle Registration

The Carado T447 is a diesel motorhome with a Gross Vehicle Mass (GVM) of under 3500kg. Annual registration for this type of motorhome is typically around $200.

If you won't be using your motorhome for three months or more in the year, you can apply for an exemption on licensing for that period to save money. If you want your exemption to last more than a year, you will need to reapply at the 12 month mark.



Certificate of Fitness (CoF) or Warrant of Fitness (WoF)

Your motorhome will require a CoF or WoF depending on the motorhome GVM. Motorhomes with a GVM of 3500kg or less require a WoF and those with a GVM of more than 3500kg require a CoF.

All motorhomes purchased from Wilderness include a recent or CoF or WoF in the purchase price (included in on road costs). If the motorhome you purchase does not include on road costs, you should budget around $70 for a WoF and $150 for a CoF. You will need a new WoF after three years and then annually. A new CoF is required every six months.



Road User Charges

Anyone who drives on New Zealand roads is required to pay road user charges (RUC). For petrol vehicles, this is included in the price of fuel, but for diesel vehicles this is paid through RUC. For motorhomes, RUC are typically around $80 per 1000km.



Insurance

Most motorhome buyers insure their vehicle with a specialist motorhome insurance provider such as Covi Insurance. With the Covi comprehensive option you will pay around $1070 per year for a new Carado T447 motorhome.



Servicing and Water Tightness

Each motorhome has a recommended servicing and maintenance schedule.

Typically, a motorhome should be serviced after every 10,000 kms or at least once a year, whichever comes first. Check the servicing schedule for your motorhome. Most importantly, you should have it checked by an expert whenever you notice any issues with the vehicle. Motorhome servicing should be carried out by an authorised agent for the vehicle make.

An annual water tightness test is a requirement of the water ingress warranty for your new motorhome. Failure to complete the test will affect the warranty.

You should also factor in costs for repairs related to wear and tear. This will vary widely depending on the quality of the motorhome build and the amount you use it. For the first couple of years, most repairs to your new motorhome (other than those due to wear and tear) will be covered by the warranty. Your new motorhome will have a warranty on both the base vehicle (covered by the vehicle manufacturer) and the motorhome conversion (covered by the motorhome manufacturer).

For your 2020 Carado T447, this includes:
2 year warranty on the Fiat chassis (subject to servicing every 12 months or 48,000km by approved Fiat agent)

2 year fit-out warranty

7 year water tightness warranty (subject to annual water tightness test by an approved agent)
Make sure you check the list of warranty exceptions or exclusions. These are the situations in which the warranty will not cover the cost of repair.

The cost of your Fiat service will vary depending on the age of vehicle. This will cost approximately $650 per service. The motorhome dealership you purchased your new motorhome from should be able to do the annual water tightness test. Allow about $120 for your annual water tightness test.

Our team can connect you with a servicing and repair workshop near you to make servicing easy.


Replacement parts



The motorhome parts that will need to be replaced most often are tyres. A set of tyres will last on average 40,000km depending on the driving habits of the motorhome owner. You should budget around $1000 for a set of replacement motorhome tyres.




Depreciation

Depreciation rates

vary widely depending on the motorhome you own. The

Inland Revenue

Department rate for campervans is 13.5%. In our experience,

real depreciation of a new Carado motorhome is 10-15% in the first year, and around 8% per year after this for the first five years.


Opportunity cost

Opportunity cost is what you would have earned if you had invested your money instead of purchasing a motorhome. With interest rates at the lowest levels in years, the opportunity cost right now is negligible.


Secure storage



If you want to keep your motorhome secure, you have the option of paying for a secure storage space for it. This will cost approximately $250 per month for secure outside parking in Auckland or less in the provinces. Since we consider this an optional extra we have not included storage in our final costs.
Case study: Total costs for 5 years of motorhome ownership

So what's the total cost of ownership of a new Carado T447? We have created an approximate assuming five years of ownership.


Cost of Ownership

Year 1

Year 2

Year 3

Year 4

Year 5

TOTAL for 5 years

Registration

$200

$200

$200

$200

$200

$1,000

WoF

$0

$0

$0

$70

$70

$140A

RUC

$720

$800

$800

$800

$800

$3,920B


Insurance

$1,070

$1,070

$1,070

$1,070

$1,070

$5,350

Servicing

$650

$650

$650

$650

$650

$3,250

Water Tightness Test

$120

$120

$120

$120

$120

$600

Tyre replacement

$0

$0

$0

$1,000

$0

$1,000C



Depreciation

$13,990

$10,073

$9,267

$8,525

$7,844

$49,699D


TOTAL each year

$16,750

$12,913

$12,107

$12,435

$10,754

$64,959

Average annual ownership cost over 5 years

$12,992
A First WOF is included in purchase price and lasts three years
B Assumes 10,000km driven each year. Excludes first 1000km included in purchase
C Assumes one set of replacement tyres
D Assumes 10% in year 1, then 8%

Renting a Motorhome

Now that we have established the annual cost of ownership of a shiny new motorhome as $12,992, let's look at how many weeks you could rent the same motorhome for with this budget.

The cost of motorhome rental varies depending on the time of year.

Rentals are generally most expensive in summer (high season) and less expensive through autumn and spring (shoulder season) and least expensive in winter (low season).

However, there's a big caveat on that in 2020. With the Covid-19 pandemic restricting international tourists, motorhome rental rates have fallen through the floor. In fact, our sister company Wilderness Motorhome Rentals believes that since March 2020 rental prices are the lowest they've seen since they started back in 2004. Coupled with motorhome prices appreciating as demand outstrips supply, the renting versus owning question, from a financial perspective, may have a different answer this year.

When borders reopen, increased demand and the subsequent fall in available vehicles rental rates are likely to cause rental price increases.

We have worked out the price for one week of rental of the King / Twin for 4 (Carado T477) from the Auckland branch of Wilderness Motorhome Rentals for the Carado T477 in the three periods.


High season - $2650 per week
Shoulder season - $1390 per week
Low season - $833 per week

Having settled on $12,992 as the annual cost of owning a Carado T477 we can now easily work out how many rental weeks you could buy with this same amount of money:


5 weeks in high season
9.5 weeks in shoulder season
16 weeks in low season

Making a decision based on financial factors would need you to know how many weeks you plan to spend in a motorhome each year, as well as what season, or combination of seasons, you plan to travel in.


Other factors to consider when renting or buying a motorhome
Now that we've established the financial costs side of the comparison, it's time to delve into the equally important but less considered non-financial of lifestyle factors. Some of the lifestyle factors that are most likely to impact on the buy versus rent decision are frequency of use, choice, date flexibility, motorhome specs and tech, personalisation, availability, cleaning, maintenance and compliance, storage, pick up location, that new feeling and terms and conditions.
How often you want to set off on a trip in your motorhome is a big factor when deciding whether to rent or buy.

If you plan to take frequent trips, like most weekends or school holidays, you might end up spending enough time on the road to make purchasing the ideal option.

On the other hand if you're short on time and would only be able to take your motorhome out occasionally, renting may be for you.

Winner: it depends on how much you plan to use the motorhome. Check how many weeks you would need to rent to make buying a motorhome worthwhile in the financial section above.


If you look at the scope of rental options across motorhome companies in New Zealand, you'll notice they are somewhat limited. In New Zealand, 70% of rentals are provided by only three companies leaving consumers pretty low on choice. Most commonly, rental motorhomes are chosen for their ability to provide basic comfort for 2 to 4 people. Wilderness Motorhome Rentals provides a more premium and unique motorhome rental experience than competitors but our rental options are still limited compared to the large range of options for different berths and options available to buy in the Wilderness Motorhome Sales catalogue.


Winner: Owning your own motorhome wins since you can choose the perfect motorhome for your unique situation.


Renting generally requires both booking in advance and being penalised if you cancel too late. This takes away a lot of freedom of date choices and forces you to stick to that long weekend in the Coromandel even if rain is threatening.

It goes without saying that when you own a motorhome, you can plan and cancel trips on the fly with no cancellation policies to consider.

Winner: Owning your own motorhome empowers you to freely embark on motorhome trips whenever you want.


The motorhomes on the fleets of most rental companies in NZ are very basic and low spec. Being low spec doesn't just mean less bells and whistles, it includes things like wall thickness and seat quality. Wilderness Motorhome Sales and other European motorhome providers are an exception to this, providing higher spec rentals that are more comfortable, warm and quiet than your standard rental.

Purchasing a European motorhome from Wilderness Motorhome Sales takes this to the next level with a high level of specs on all for sale motorhomes as well as the ability to fully customise specs when you choose from the catalogue. You can get a bigger TV, more batteries, solar panels, upweight chassis for more payload, air suspension for a smoother ride and any number of other things.

Winner: Owning your own motorhome wins since you can choose your ideal specs. Renting a European motorhome comes in second due to a generally higher spec fleet than the rest of the rental options in NZ.


Owning your own motorhome is like owning a small house. You can personalise to your hearts' content with your own bedding, pillows, kitchen appliances and decorations to make it your own. You can also remodel the interior and make permanent changes to the fittings. If you rent, personalisation isn't really practical and cannot be permanent. It will need to be done again each time you rent.

Winner: Owning lets you permanently alter and decorate your motorhome space to suit you.


With very limited international travel available, Kiwis are turning to motorhoming to get their travel fix. This has resulted in a surge of people buying motorhomes and living out their mobile home dreams. Unfortunately this, along with importing challenges during lockdown periods, has led to low availability of motorhomes for purchase and having to wait months for delivery.

On the other hand, with limited international tourism, rental motorhomes are more available to rent than ever. Especially over usually booked-out periods like the Christmas break. This has also led to some great deals and packages tailored just for Kiwi renters to explore.

Winner: Right now, rentals win for your ability to hit the road tomorrow, while your purchased motorhome may take months to be delivered to NZ.


Cleaning, Maintenance and Compliance
As an owner, keeping your motorhome humming along happily is your responsibility. If you're busy, servicing, cleaning and maintaining your motorhome can be too much of a time commitment. To show you the extent of this, we've compiled a list of what needs to be cleaned and checked in your motorhome each year.

Renting is a whole different story with no cleaning necessary for you as the renter beyond standard emptying of tanks and refilling of diesel and LPG. Simply drive to the rental operator, hand over the keys and you're done. For busy people or those inexperienced in doing maintenance on a motorhome, renting is definitely the simpler option.

Winner: Renting a motorhome wins for easiest maintenance compliance and cleaning. The rental operator handles all of this.


Ownership comes with a sometimes overlooked challenge - where do you park it? Motorhomes are generally between 6 - 8 metres long and 3 metres tall and are unlikely to fit in a standard garage. You'll need to safely and securely place to park it to ensure your valuable asset is not damaged by the elements and other vehicles.

Renting your motorhome generally means you'll be on the road or parked up at a campsite with no storage needed between trips.

Winner: If you don't have a safe, secure space for a big vehicle on hand, rental is definitely less of a headache.


Most motorhome rental operators are based in Auckland, Christchurch or Queenstown with only a few smaller operators outside of these centres. If you live in the provinces, you may end up driving for hours to collect your motorhome.

If you purchase, you will likely need an initial visit or two to see the motorhomes for sale in person. Once you've decided and ordered, you're just one trip away from keeping your motorhome in a place convenient for you ready for any trips you want to take.

Winner: If you're based far from Auckland, Christchurch and Queenstown, buying a motorhome will potentially save you a lot of time since you don't need a long drive to pick up your rental motorhome.
Most companies regularly update their motorhome rental fleets. Wilderness Motorhome Rentals is dedicated to this with a fleet no older than 4 years. Motorhomes are also cleaned thoroughly after each use and maintained carefully. Despite all this, your rental motorhome will still be lacking that satisfying feeling of an untouched, new motorhome with rustling plastic wrapping still intact.

To feel that little thrill of being the first person to sleep in the bed, shower, cook a meal and park up in a scenic location you simply can't rent.

Winner: Love that exclusive, shiny new feeling? You'll want to buy your own motorhome.


Terms and conditions

If you own, you are not bound by any rental company terms. Drive whenever and wherever you like with no restrictions like number of drivers, return times and cleaning fees. Just keep in mind that you will still be bound by your warranty and insurance terms.

On the flip side, rentals generally have a set of rules in the form of terms and conditions that can limit the freedom of your trip including charges for cancellation and strict return times.



Winner: Do things on your own terms without the T&Cs by buying your motorhome.
So which is the overall winner, renting or owning?
It all depends on your unique situation and needs.

Do you value taking trips on short notice, flexible dates, high specs and the latest tech, personalising your fit-out and being the first to use the motorhome? Do you intend to take multiple motorhome trips per year for the next five to ten years? Then owning your own motorhome is likely to suit you best.

Or are you more of a plan-and-stick-to-it traveller with limited time, looking for a more basic camper that does the trick without the bells and whistles and headache of cleaning and maintenance? Do you do limited domestic travel and intend to return to international travel as soon as possible? Then you're probably better suited to renting your motorhome.

You'll also want to keep the financial considerations in mind and ensure you will be taking enough motorhome trips to make owning worthwhile as we discussed in the financial section.

If you're still trying to decide, you can reach out to our friendly Wilderness Motorhome Sales team for extra information about whether buying or renting is the best option for you.


---

Want to try before you buy?
We know deciding can be a challenge. That's why we recommend you try before you buy with the Wilderness pre-purchase trial. Hit the road for a trip in the motorhome model you are considering to see if it's the perfect motorhome for you. If you decide to purchase, we will refund your first three days of rental.
---